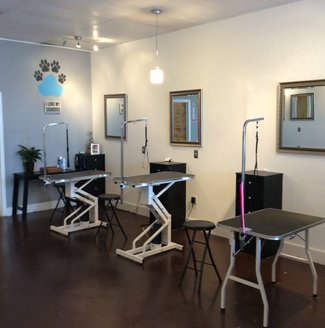 Happy Pets is committed to providing the best grooming services to fulfill your pets needs in a safe and friendly environment.
Call today for an Appointment
Bath & Brush
Bath
Brushing
Sanitary Trim
Toe Nail Trim
Ear Cleaning
Anal Gland Cleaning
Tidy Up
Face, Feet, Tail trim

Bath

Sanitary Trim

Toe Nail Trim

Ear Cleaning

Anal Gland Cleaning

Brushing
Full Body Groom
Full Body Haircut
Bath
Sanitary Trim
Toe Nail Trim
Ear Cleaning
Anal Gland Cleaning
Brushing
Yor pups pampering day at the spaw! This package includes our Mud bath treatment, Blueberry Facial scrub, Teeth Brushing, Nail Grinding, and a full body massage!
Bathed with our Kava and oatmeal shampoo then pammpered with an all natural organic mud bath. This mud bath helps remove impuriteis, exfoliate skin, and rebuild coats.
Reduces shedding by 90%, Furminator Products
An all natural tearless facial cleanser. This scrub formula contains oatmeal and blueberries to remove stains without irritating eyes or sensative skin.
Conditions, medicate, and brightens coats. This sham[oo os formulated to help those pets with dry flaky skin.
Oatmeal & Tea Tree (Medicated)
A gentle shampoo that revitalizes and conditions ski nand coats with all-natural botanicals. Containg oatmeal, papaya, and Aloe Vera to soothe dry irritated skin. This soap-free shampoo is great for pets with irritated or itching skin.
Tearless Fragrance Free shampoo formulated for our most sensitive furry friends. Containing natural Aloe Vera and vitamins to enhance skin and coat.
Nail Grinding.................................................$15
Nail Trim.........................................................$10
Ear Cleaning.....................................................$8
Teeth Brushing................................................$9
Anal Gland Cleaning.....................................$10
Pampered Pet.................................................$18
Nail Grinding, teeth brushing, & ear cleaning
Nail Grinding & Ear Cleaning.......................$14
Nail Trim & Ear Cleaning..............................$12